Upgrading your kitchen or sprucing up the backyard is a nice way to make your house your own and potentially increase its value. Although rewarding, home improvement projects can often be costly. Here are several ways for you to manage home improvement financing:
1. Save
Putting away money is a great way to pay for home improvements. Using your 
1st United Money Manager
 within online banking, you can set a goal and receive notifications as you build your savings and reach those goals.  Out of sight is often out of mind – to safeguard your best intentions to save, we recommend opening a second savings account and
setting up automated transfers
monthly or on paydays. This will enable your savings to grow effortlessly.
2. Home equity loan or line of credit
If you don't have the cash and aren't able to save, you might consider borrowing the money with a low-cost loan secured by the equity in your home. There are two ways to access your home equity to pay for improvements:
a home equity loan or a home equity line of credit
. 
A 
home equity loan
 is a fixed-rate, fixed payment loan, which makes it simpler for you to budget. You choose the amount you want to borrow up to a percentage of your available equity, and you can use the money any way you wish. This option benefits you most if you plan to use the money in a lump sum for a one-time expense.
A
home equity line of credit
 (HELOC) has a variable-rate and works more like a credit card, allowing you to take money out as you need it. A HELOC is a good choice if you plan to use your equity periodically, for example, in an ongoing home improvement project.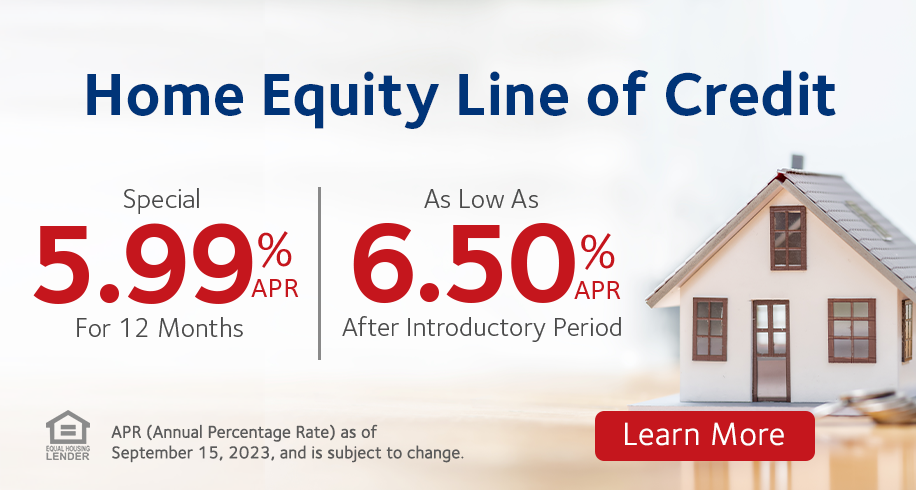 3. Fixed-rate personal loan
If you don't have enough equity in your home or don't wish to pull from your equity, a 
personal loan
 might be an option. While personal loan rates may not be as low as a home equity loan or line of credit, they are still considered competitive and offer flexible terms, so you should be able to 
find a payment
 that fits your budget. Personal loan funds can be used however you'd like and are ideal for a one-time, lump sum expense.
4. Credit card
If you have a small project, consider using a
low-interest credit card
 or promotional rate credit card offer. Be sure to read the fine print on the offer so you understand your interest rate and payment terms to determine if this is the best option for you. Savvy borrowers set a goal to pay off the balance before the special rate expires.
What's best for you?
As you can see, there are many home improvement financing options available. It's just a matter of selecting the option that works best for you. 
We also recommended consulting with
a realtor who is familiar with your neighborhood
to determine if your planned improvement will pay off at the time of sale. This information may help you better plan your home improvement project and you'll thank yourself later on if you decide you need to sell.
Subscribe to Our Blog
* Required
Thank you.
We appreciate your interest.