Accounts, payment history, and more
A credit report is a detailed overview of an individual's credit history prepared by a credit reporting agency and used to determine creditworthiness. Lenders who extend credit (such as credit cards, auto loans, and mortgages) regularly provide information to consumer reporting agencies about the type of account you have and how you pay your bills. This information forms the basis for your consumer credit report.
Your credit report lists what types of credit you use, the length of time your accounts have been open, and whether you've paid your bills on time. It also tells lenders how much credit you've used and whether you're seeking new credit.
Consumers typically have three reports—one at each of the three major U.S. consumer reporting agencies: Equifax, TransUnion, and Experian. Often, lenders report details of your credit history to more than one consumer reporting agency.
All credit reports contain basically the same types of information:
Personal information

Your name, address, Social Security number, date of birth and employment information.
Your credit accounts

Most lenders report information about each account you have established with them. They report the type of account (credit card, auto loan, mortgage, etc.), the date you opened the account, your credit limit or loan amount, the account balance, and your payment history.
Requests for credit

When you apply for a loan, you authorize your lender to ask for a copy of your credit report(s). This is how "inquiries" appear on your reports. Your credit reports list inquiries that lenders have made within the last two years.
Public record and collection items

Consumer reporting agencies also collect information on overdue debt from collection agencies and public record information such as bankruptcies, foreclosures, tax liens, garnishment, legal suits and judgments from state and county courthouses. In general, these items remain on your credit report for 7 to 10 years.
Checking for errors

You should monitor your credit report from each consumer reporting agency for accuracy. We recommend reviewing each report at least once a year and before making any large purchases, such as a home or car.
You have the right to obtain one free credit report each year from each of the consumer reporting agencies through
AnnualCreditReport.com
. You don't have to order reports from all three agencies at the same time – you can spread them out during the year. For example, check Equifax at the beginning of the year, TransUnion mid-year, and Experian at the end of the year.
If you find an error, contact both the consumer reporting agency and the business/creditor that provided the information to the agency. Both parties are responsible for correcting inaccurate or incomplete information in your report as required by the Fair Credit Reporting Act. And if you are having challenges paying your debts, contact your creditors immediately. They may be able to work with you to adjust or modify payments or terms.
Have questions?

Request your credit report through
AnnualCreditReport.com
and start to become familiar with your credit history. If you have questions about your credit report, feel free to bring it in to any 1st United branch and our friendly branch staff would be happy to walk you through it.
Subscribe to Our Blog
* Required
Thank you.
We appreciate your interest.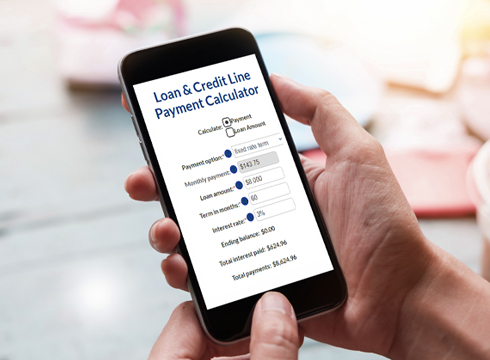 We can help you do the math
Our interactive online calculators give you over 50 options to help you add things up.  Choose from loan payment calculators, mortgage payoff calculators, compare renting versus buying – even how much life insurance you'll need.