By the time our kids reach their teens, their need for financial literacy becomes important. They aren't just dealing with a weekly allowance anymore. They also might be seeking part-time jobs and looking ahead to life after high school when they'll be living on their own and working, going to school, or both.
Whatever the case may be, teens can benefit from getting a head start on managing their own money. 1st United is a local credit union that offers financial education for teens. We encourage you and your kids to call us or stop by a branch to ask questions about banking and finances. We're happy to help.
Opening a
checking account
at your local credit union is another easy and sensible step you can take to support your child's financial education, creating a number of benefits that will pay off for your teen both now and in the years to come.
Here are four benefits you can expect when helping your teen open a
checking account
.
1. Your teen can get a head start on managing their own bank account
Checking accounts are relatively simple to manage, but there's a learning curve that comes with using this financial tool. Teens will need to learn basic routines, such as tracking their spending and how to use their debit card and PIN to withdraw money from an ATM.
They will also need to learn how to use banking tools, such as mobile check deposit and reviewing their monthly account statements. Instead of leaving this up to your child to figure out on their own later in life, you can help them get up to speed with proper checking account management while they still live at home.
2. Opening a checking account helps build their financial reputation
A checking account doesn't directly impact credit history or credit scores. However, if your teen opens an account from a local credit union or bank and keeps it in good standing, it can be used by lenders in the future to confirm that they are responsible money managers. Lenders often ask for active bank account numbers on credit applications. Introducing a checking account as the first step in building your teen's financial reputation could create opportunities further down the road.
3. You can teach your teen how to use other money management tools
Once your child has a checking account in their name, they can begin using
money management tools
that track expenses and help them to create and stick to budgets. Most credit unions and banks offer these tools; 1st United Credit Union's is called
Money Manager
.
4. Your teen can make financial mistakes in a safe environment
Nobody's money management skills are flawless – especially when you're a teenager. ATM fees and overdraft transfer fees are among the top costs incurred when teens are learning to manage checking accounts for the first time. These costs and account management practices can be frustrating and costly – especially with a limited budget. But when teens are managing these accounts under the guidance of their parents, they may have more room for error. Parents can steer them away from actions that incur fees, or they can even add funds to cover overspending or miscalculations that risk negative balances.
Any teen opening their first bank account is going to make some mistakes. As a parent, the best thing you can do is to let them learn these lessons while they're young and the stakes are still low.
Keep in mind that if your teenager is under 18 years old, they will need a parent or legal guardian to open the checking account with them jointly at 1st United Credit Union.
Subscribe to Our Blog
* Required
Thank you.
We appreciate your interest.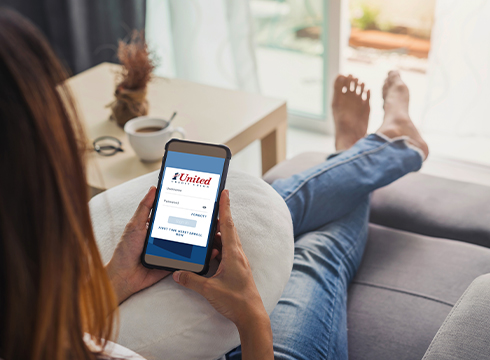 Simpler. Faster. Friendlier.
This drives everything we do – from how we serve our members to the type of technology we invest in.
We pride ourselves on local, neighborly banking, and hope you do, too.