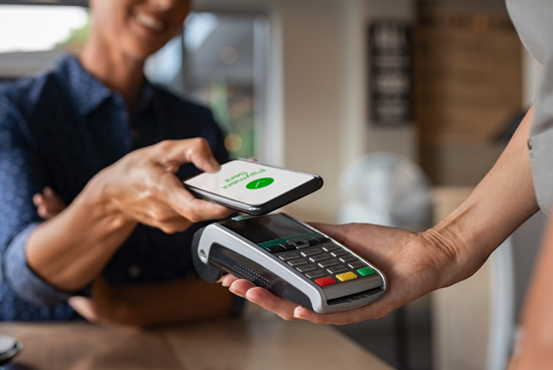 Five Reasons Why People Love Using Mobile Wallet
Mobile wallet
is more than just a novelty – it's a safer, more convenient way to pay for goods and services. All you need is a smartphone, smartwatch, or tablet, and a debit or credit card. Once set up, you simply "tap" your device to pay.
Consumers love mobile wallet because it takes mobile banking to the next level. Everything that you need to make a purchase is in your phone or on your wrist.
What is mobile wallet?
You've probably already used one-click checkout on websites. For example, you "Buy Now" on Amazon, and because you have already entered a card into its system, you skip several steps when you click to purchase something. Some online merchants offer
Visa Click to Pay
, formerly Visa Checkout, that lets you pay quickly and safely with your Visa card. Mobile wallet works the same way as both of these options, except you're securely buying things in person rather than from a website.
Apple Pay
,
Samsung Pay
, and
Google Pay
are the three most common mobile wallet options available. Once you download the app onto your smart device, you can add your 1st United credit or debit card information as a form of payment. When you are ready to pay for your purchase, you will simply unlock your phone or watch, hover it over the payment terminal (you'll hear this referred to as "tap to pay"), and the sale goes through within a second or two.
Retail merchants such as Starbucks or McDonald's may offer their own mobile wallets within their consumer apps. Usually, you either load money onto the app or connect a debit or credit card to it and then just tap (or have the app scanned) to pay in person or via an order placed before you arrive.
Why mobile wallet is great
The following five features make the mobile wallet experience unique, efficient, and even a little fun:

1. It's more secure
Carrying a debit and credit card provides more security than cash – if you lose physical money, it's gone for good. Cards can offer plenty of security protections; however, there are still some risks. If someone gets hold of your card or its number, they can attempt to use it for their own purchases.

Once you enter your credit card information into a mobile wallet app, your card number truncates so only the last 4 digits show. This protects you if someone gains access to your phone or watch. Furthermore, when paying, your credit card number is tokenized so you never pass your actual card number to the store.


2. It's convenient
Leave your cards at home. For people with an active lifestyle, mobile wallet gives you one less thing to carry when you're out and about because you need only your phone or your watch to make purchases.


Transactions are also quicker with mobile wallet. Along with not having to dig your card out every time, you may not even need to enter a PIN with most purchases. Just tap and go and the transaction is complete.


3. It's rewarding
If you use the
Starbucks mobile app
, for example, you're not just buying coffee – you're also earning stars. You load money into your account, pay for items, earn more stars, and earn more rewards. This is a perfect example of how mobile wallet pays you back for spending money you would already be spending.
You can also earn points by adding your
rewards credit card
to your mobile wallet. Make it your primary method of payment and you can collect points whenever you tap to pay. Set a plan to pay off the balance every month and you can use earn points without accruing interest.
4. You can send money with it
Many mobile wallet apps offer the option to send money directly to people from your checking account. You won't be tapping and the process is different than if you were at a store, but with a few actions on your smartphone, you can instantly, safely, and securely send funds to others. This way, you don't have to worry about dealing with cash or wonder when a check you wrote will be withdrawn from your account. Here's how to send money using
Google Pay
,
Samsung Pay
, and
Apple Pay
.
5. It's great for gift cards
If you've ever received a Starbucks gift card and immediately loaded it onto your digital account, you know how wonderful it can be. Once loaded, you no longer worry that you might lose a card that may still have a balance on it, and you can use the funds for coffee now or later. Not every gift card will work with every mobile wallet – for example, an iTunes card can't be added to Apple Pay – so check first if a card is compatible with your app.
Mobile wallet tips
Mobile banking was already easy to use, and mobile pay makes it even easier. Here are some tips to keep your account safe and rewarding:
Lock your phone: Your smartphone can still be lost or stolen. Be sure to add a passcode or another security measure to it so that other people can't access your mobile pay app (or anything else you don't want them seeing or using).

Strong passwords: Because you may occasionally use your mobile wallet from a computer, be sure to set a good password that won't be easily guessed in the event that someone tries to hack into your account. Your mobile banking accounts should have strong passwords, too.

Beware of overspending: Tap, pay. Tap, pay. It's so convenient, but make sure it doesn't become too convenient. In other words, don't lose track of how much you're spending with mobile wallet. Stay within your budget, and work towards paying off credit card charges right away.

Use your funds: If you load money into a mobile wallet app that's not connected to a bank account – say, on a fast food app – be sure you remember to use it. Otherwise, you're taking money out of your account, where it could be collecting interest. The same goes for gift cards.

Remember your rewards: Similarly, if you are getting points from a merchant's mobile app or a rewards credit card, don't let them expire before using them. Some apps let you redeem rewards from within the app so make sure you take advantage of those points sooner than later.
Mobile pay is safer than cash and offers convenience and tangible benefits. As a 1st United member, you can also sign up for fraud alerts,
purchase alerts
, and other mobile banking features that simplify your money management and protect you. With our
Visa Platinum Rewards Card
, you can earn points when you pay on the go. Feel free to
contact us
if you have questions or need help getting started.
Subscribe to Our Blog
* Required
Thank you.
We appreciate your interest.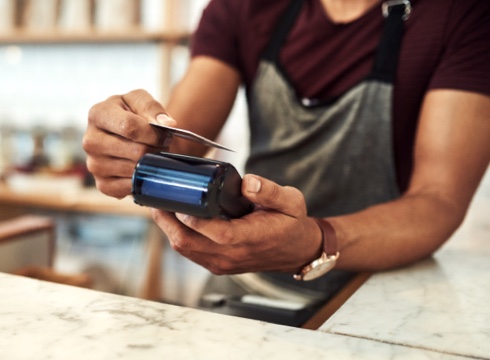 The Affordable Way to Manage Your Spending
Want low rates for purchases, cash advances, and balance transfers? Our Visa Platinum card is for you!