When you're young, time is on your side. But retirement is not that far away even though it may seem like it now. In fact, the earlier you start saving for retirement, the easier it will be to hit your financial goals and the less of a drain it will be on your budget over your career.
Compound interest is a simple concept – the money you set aside for retirement earns interest and the interest paid on your deposits also earns interest in the future.
Here's an example:
Let's say John is 20.
He starts saving for retirement this year and puts away $100 per month.

If his savings earn 3% until he's 65, he'll have approximately $115,000.
Now, Jane waits until she's 30 to begin investing.
She puts away the same $100 per month and earns the same rate of return.

At age 65, she has significantly less than John – approximately $75,000.
Even if Jane contributed $150 per month, she still saves less than John, approximately $112,000, assuming the same rate of return.
Even when he contributes less, John earns more than Jane because of the magic of compound interest and starting early.
If your employer matches 401k retirement contributions, be sure to contribute. When combined with the power of compound interest, joining your company's retirement plan is a no-brainer. Moderate and consistent investing is how smart investors help grow their retirement savings and can plan for a comfortable retirement.
The take away is this: start early, contribute often and as much as you can afford.
This information brought to you by: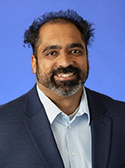 Rahil Machiwalla, Osaic Institutions, Inc.*
Financial Advisor
(925) 598-4718
CA Insurance Number: 0G20361
Get Started with a Complimentary Consultation
---
*Investment and insurance products and services are offered through Osaic Institutions, Inc., Member FINRA/SIPC. Osaic Institutions does insurance business in California as Osaic Institutions Insurance Agency. CA Agency License #OH30186. Osaic Institutions and 1st United Credit Union are not affiliated. Products and services made available through Osaic Institutions are not insured by the NCUA or any other agency of the United States and are not deposits or obligations of nor guaranteed or insured by any credit union or credit union affiliate. These products are subject to investment risk, including the possible loss of value.
Subscribe to Our Blog
* Required
Thank you.
We appreciate your interest.