Buying a home and securing a mortgage in the Bay Area can be an exciting prospect, but can also feel intimidating. The process takes time and involves many steps, and home prices here may cause you to feel like homeownership is out of reach.
Fortunately, many resources are available to turn the dream of buying a home in the East Bay into a reality. We've outlined some resources to get you started on your path to homeownership. As always, call us if you have questions.
Are You Ready for a Home?
Homeownership is a big financial step, and knowing if you're ready to buy now can save you disappointment later if you discover you can't afford it. A good place to start is a simple
mortgage calculator
that will help you determine how much you can afford and what your mortgage payments might be.
If you're not ready just yet, that doesn't mean you won't ever be. Establishing good credit, paying down debt, and saving for a down payment can help get you closer to homeownership. We recommend you speak with a mortgage professional early in the process so you know what you need to accomplish in advance, making for a smoother application process.

Finding a Home

Whether you choose to get pre-approved for a mortgage or wait to get financing, you'll need to find a home to buy. The internet is a good place to start. There are many websites available to help you search for a home including Zillow, Trulia, Realtor.com, and others.
Some people prefer to work with a real estate agent to help them find a home that suits their needs. The
Bay East Association of Realtors
will let you search for a local real estate agent by name, brokerage, or website.
Getting Help with Financing

Affordability is a big concern when buying a home in the Bay Area, but several local programs are available to help, including:

Some of these programs don't always have funds available to help with financing, so be sure to visit their websites or contact the associations directly for updated information. Beyond these local programs,
VA loans
and
FHA loans
might be options available to help you with purchasing a home.
Navigating the Application Process

A purchase as big as a home comes with a detailed application and financing process. Homebuyers have plenty of decisions to make on the type of mortgage they want. Considerations include the term, such as 30-year or 15-year mortgage, and whether you want a fixed or adjustable rate. You can and should research these choices. We can also help you decide which option is best for your financial situation.
From filling out forms to the documentation you need to provide, the application process is as easy at our Credit Union as what you might find with a bank or a mortgage broker. There are still many steps in the process, but we are readily available to walk you through it while answering all your questions along the way.

Receiving Personalized Attention

Perhaps the greatest advantage of working with 1st United Credit Union when buying a home is the personalized attention you'll receive. We are dedicated to our members, taking the time to learn about you and your homeownership dreams. And like all credit unions, we exist to serve our members. You'll never feel pressured into a mortgage that doesn't make sense for you and your financial goals.
Do you have any questions about the mortgage process? We're happy to help.
Email us
 to get started.
Subscribe to Our Blog
* Required
Thank you.
We appreciate your interest.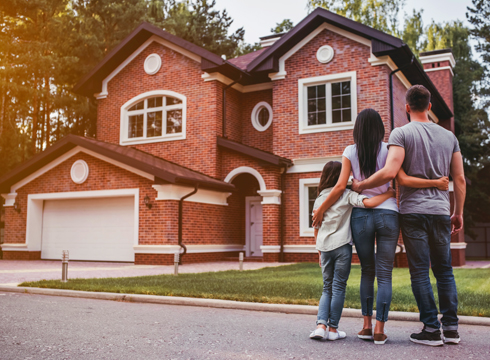 Happiness is Right Around the Corner.
Focus on the joys of buying your new home – our experts will handle the paperwork.