This is it! You found the home of your dreams and you're ready to purchase it. But buying a home in a seller's market without a mortgage pre-approval could result in a missed opportunity. The seller might decide to accept another offer from someone who has that letter.
A mortgage pre-approval is a crucial first step of the home buying process. According to
realtor.com
, three of the first four
steps in the home purchase process
all involve securing financing before you even begin thinking about the home and neighborhood.
Keep in mind, though, that a pre-approval differs from a pre-qualification. With a mortgage pre-approval, you provide the necessary documentation to your lender so they can verify your financial situation. This can include pay stubs, tax returns, and bank statements. A pre-qualification is often based on self-stated information and may or may not have been verified.
Here's why a mortgage pre-approval is an important first step to buying a home:
You'll Know How Much House You Can Afford

Consumers often over- and under-estimate the credit requirements for a home loan. A credit score difference of just 20 points could affect your
mortgage interest rate
enough to price you in or out of the home you want so it's best to be certain before you begin your search. Getting pre-approved will confirm just
how much you can afford to spend on a home.
Shows You Are a Serious Buyer

You want to get the best attention you can from your realtor. Having a pre-approval shows your realtor that you are a strong contender with a specific price range. It also allows the realtor to better assist you because they know what you can afford and can narrow their search for you.
Strengthens Your Offer

In a seller's market, the buyer is often competing against several other offers. A pre-approval gives the seller better confidence that the deal will not fall through due to financing issues and can improve your chances of having your offer selected.
Reduces Stress

The last thing you want to do is spend time searching for a home that you can't afford. A
mortgage
pre-approval helps narrow your home search to a specific price range. It also reduces stress after your offer is accepted because you won't need to race around gathering tax documents, pay stubs, bank statements, and other financial documents while also negotiating the closing on the house.
Buying a home may be the biggest purchase you ever make. Taking the time now to prepare financially will benefit you in the long run. Our real estate team is available to answer any questions you have about the process. Feel free to contact us at (800) 649-0193 or by
email
.
Subscribe to Our Blog
* Required
Thank you.
We appreciate your interest.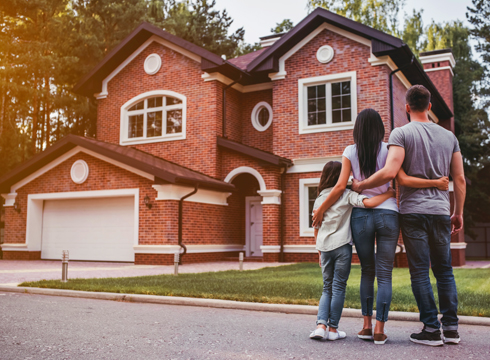 Happiness is Right Around the Corner.
Focus on the joys of buying your new home – our experts will handle the paperwork.