If you've ever used mobile deposit, you know that it's a convenient way to deposit a check from home. But did you know that
mobile deposit
saves a copy of the check you deposited for future reference? Check out these answers to some of the most common questions we get asked about mobile deposit.
What is mobile deposit?
Mobile deposit is a feature of the 1st United app. It allows you to take a picture of a check using the camera from your phone or tablet and securely deposit it to your 1st United accounts.
Do I have to download the 1st United app?
Yes. Mobile deposit is a feature of our app. If you log in to your account by visiting 1stunitedcu.org on your computer, tablet, or mobile browser, you won't be able to utilize this feature. You must download and install the app by visiting Google Play or the Apple App Store.
Is there a fee to make a mobile deposit?
1st United does not charge a fee to use this service.
What types of checks can I deposit?
We accept personal, business and payroll checks via mobile deposit in addition to cashier's checks, money orders, and U.S. Treasury checks – all up to your deposit limit. Additionally, checks must be made payable to the person(s) listed on the account.
How can I capture a good image of the check?
Place the check on a flat surface with a contrasting background (preferably dark).
Straighten the edges.
Line up the edges within the image finder on the screen (you may need to zoom in and out to align the fit).
Place the check in a well-lit area. Florescent lighting can present a challenge.
When capturing an image of the back of the check, be sure the endorsement is placed on the right side.

 

What accounts can I deposit to?

Through the app, you can deposit a check to your checking, savings, and money market accounts.
Are there limits to how much I can deposit?
Yes. Based on a number of criteria, there are per-deposit, daily, and rolling 30-day limits to the dollar amounts you can deposit. You can view your per-deposit limit from within the mobile deposit app . You'll find this limit under the Amount field when performing a deposit. Please contact us if you have questions about your limits.
How should I endorse my check?
Endorsements for mobile deposits are a little different than ATM or in-branch deposits. Sign the check in the endorsement area as follows:
For mobile deposit at 1st United Credit Union
[the account number you are depositing to]
[your signature]
What do I do with the check once deposited?
We recommend keeping your check in a secure place for at least 15 days, after which you may destroy it.
How do I know if the deposit was received?
Once you submit the deposit, a confirmation that it was accepted will appear on the screen. Once the check is approved, you will receive an email.
How quickly will it be available in my account?
Generally, mobile deposits received and accepted by 5 p.m. on a business day will be considered deposited on that day and funds will be available the next business day. If the mobile deposit is received and accepted after 5 p.m. PT or on a weekend or holiday, it will be considered deposited on the next business day and funds will typically be available the second business day. In some situations, there may be holds placed on deposited checks in which case, funds may not be immediately available.
What if I entered the wrong amount?
No worries. If the wrong amount is entered, we will correct it. However, this may result in longer review and processing times . To make things easy, the app will read the check and pre-fill the amount. Be sure to confirm this amount is correct before submitting.
How long can I view information about deposits?
Our mobile banking app keeps at least 30 days of history of mobile deposits. These and older deposits are visible in your account history for up to 18 months.
Is mobile deposit secure?
Yes, mobile deposit provides several layers of security. The app uses encryption technology to protect your personal information and financial transactions. In addition, check images captured during the deposit process are never stored on your mobile device.
Can I get step-by-step instructions?
If you need assistance with mobile deposit, please call us or stop by a branch. We are happy to teach you how.
Why would an image be rejected?
There are multiple reasons an image might reject, including a missing endorsement, blurry image, dark image, wrinkled check, or illegible writing.
I need help!
If you need additional help getting started with mobile deposit, please let us know. We can walk you through the setup and help you make your first deposit. Simply call us at (800) 659-0193, we are happy to help.
Subscribe to Our Blog
* Required
Thank you.
We appreciate your interest.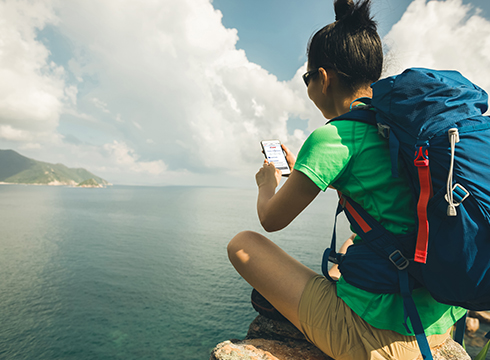 Checking Accounts for Every Stage of Life
Whether you want to earn dividends, double your Visa Platinum Rewards points, or simply like it "free," we have an account for you.