How to Stop Payment on a Check
If a check you've written has been lost or never cashed or you are missing a box of checks, you can initiate a stop payment to prevent those checks from being cashed. Here's how:
How to place a stop payment
Log in to online banking through a web browser (a stop payment cannot be performed through the mobile app)
Select the checking account for which the check was written
Select Stop payments from the checking account menu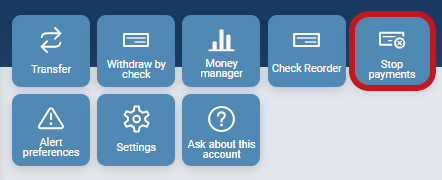 Choose A single check to place a stop payment on one check or A range of checks to stop a series of checks that are in consecutive order
Fill in the applicable information including:

Check number (if you have it) or range of numbers
Payee – who the check was written to
Check amount
Reason for the stop payment

Submit
Stop payment requests submitted outside of business hours will be applied the next business day. Payment(s) will be stopped for six months only. After that time, payment(s) can process normally. If you want to extend the stop payment beyond six months, you will need to place the stop payment request again. 
When you place a stop payment on your own, there is no fee incurred. (You are charged a fee if we do it for you). View your schedule of fees by logging in and selecting Statements & Notices then Disclosures or call us.
How to cancel a stop payment
Subscribe to Our Blog
* Required
Thank you.
We appreciate your interest.