Choosing a financial institution to handle your money can be daunting. And if you're trying to choose between a bank and a local credit union, there may be more to the decision than you realize. To help, we've outlined some of the differences and similarities between local credit unions and banks.
Banks vs. local credit unions: What's the common ground?
Before we look at how banks and credit unions differ, it's worth understanding how they're similar. These are some of the financial services both banks and credit unions are designed to provide:


Checking and savings accounts

Credit cards

ATM services

Loans

Business banking
Services can vary, so check with the financial institution to confirm it provides what you need.
What are the advantages of using credit unions?
Member-owned: When you join a credit union, you aren't just a customer – you become a member. Credit unions are cooperatives established and run by members who have a say in how the credit union operates.

Not-for-profit: Credit unions are structured to promote the financial wellness of their members rather than to reward investors. Profits earned by the credit union are returned to members as reduced fees, higher savings interest rates, and lower loan rates.

Cooperative: Credit unions create a cycle of mutual member support. For example, the deposits of one member are used as part of a loan for another member. The common goal is to benefit all credit union members.

Community-oriented: A credit union serves a community of members who share a common interest or demographic. As such, the credit union better understands the needs of its community than a bank might. In this way, credit unions give back to the communities they serve.
Perhaps the greatest difference is philosophy. A bank helps its customers because that improves its bottom line. A credit union helps its members not to please shareholders, but because that is its mission and purpose.
How credit unions give back to their communities
Because they are not-for-profit organizations created to serve their members, credit unions often take pride in the various ways they give back to the community. As an example, 1st United
gives back to the communities we serve
in a variety of ways, including:
Community service: 1st United supports local school, the Food Bank, and many other community groups.

Financial education: Promoting financial literacy is part of our community commitment and we provide financial education to Alameda County residents and through our MoneyWise blog.

Charitable giving: 1st United donates funds and supplies regularly to community groups and continues to give back every year.
As a whole, local credit unions are members of the communities they serve. They invest in their community because they are part of the community
Not all credit unions or bank offer the same value
Although credit unions share many common traits, each is unique in its history and how it serves its members. When choosing a bank or credit union, dig into the individual financial institution's reputation.
Looking for an example? Here are some interesting facts about 1st United Credit Union and some ways it stands out:
We are one of the oldest credit unions in California.

1st United was formed in 1932 by Alameda County employees.

We now have almost 63,000 members and assets over $1.278 billion (2022).

We invest in technology, providing the latest in mobile banking tools and data security.

Our financial team is committed to delivering superior service to members and to helping you build a personal relationship with us.

We help members plan their financial futures with services such as in-branch appointments to review your credit report.

We give back to the community through financial education programs and volunteerism.
Wondering what other services 1st United provides? Like most credit unions, we offers a variety of personal financial services, including:
Retirement planning

Insurance

Identity theft protection

Free financial counseling
If you're looking for a financial institution that you can trust with your money, you may want to consider your local credit union as a banking alternative. Credit unions are here to serve you, as well as to meet all of your banking needs. And isn't it better to be a member of an organization working toward the common good than to be just another account number?
Subscribe to Our Blog
* Required
Thank you.
We appreciate your interest.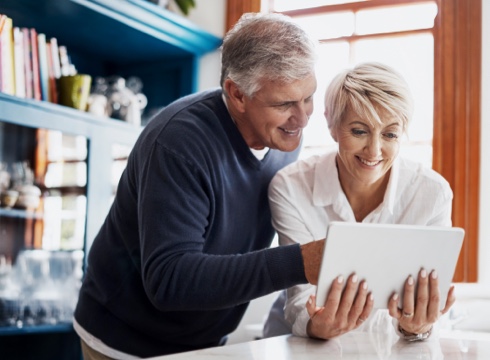 Your new checking account is a click away.
Simplify your life with a 1st United checking account.