Snap, Post, Tweet, Like… Social media is a staple in just about every kid's life beginning at a very young age. Although your kids may be tech-savvy, they likely haven't developed the common sense to know how to identify scams.
Fraudsters will not hesitate to prey upon unsuspecting youth so discussing
online safety
early on with your kids could help to prevent a catastrophe later. Here are three scams that target unsuspecting kids and teens to be aware of.
Phony contests
Fraudsters set up fake contests and surveys that appear to look legitimate but are designed to gather personal information that can be sold. Kids should know that personal details such as a favorite book, mother's maiden name, or pet's name can be used to hack future accounts that use this same information for security authentication.
Specifically named because it occurs on the popular photo sharing app, Instagram. An Instascammer uses the comments section of photos to tout giveaways and make-money-quick schemes. Because the photos are tied to the profiles of popular brands or celebrities, kids may be misled to believe they are true.
Catphishing
Possibly one of the scariest of all scams is catphishing, in which a fraudster pretends to be someone they are not and befriends your child with the intention of taking money, personal information, or more. The fraudster typically requests to chat with your child through social media or a messaging service. They may impersonate a person living abroad who needs help or a person looking for friendship.



Protect your child
Talk with your child about these scams. While you cannot be with your children every second of the day, you can take steps to protect them. Remind them to not friend people they don't know and beware of so-called "celebrity" profiles – most are not legitimate and you don't know who is running them.
Social media is a privilege.
Monitor your kids' social accounts
and check that their privacy settings are set appropriately so profiles can't be seen by strangers. It's also a good idea to turn off geolocator services and uninstall apps that access your child's personal information.
As an added level of protection, remind kids to never provide account numbers, Social Security numbers, or any personal information to strangers.
If you or your child are a victim of a scam

If you believe your child was a victim of a social media scam, you should start by reporting it to your local police. If you feel your 1st United account information has been compromised at any time, please contact us immediately at (800) 649-0193 so that we can assist you.
Protecting your money is our priority
Scammers will go to any length to obtain your account information or to steal your identity. Be aware and stay prepared to lessen the chances of falling victim to identity theft.
Subscribe to Our Blog
* Required
Thank you.
We appreciate your interest.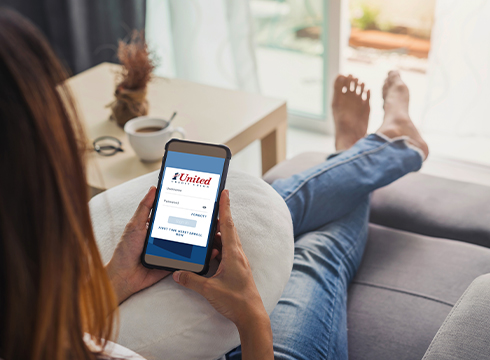 Discover the Credit Union Difference!
Apply today if you live, work, or attend school in Alameda, Contra Costa, San Joaquin, Solano, Stanislaus, or Kings Counties.