Message From Our CEO Regarding Silicon Valley Bank Collapse
You may have heard in the news that
Silicon Valley Bank (SVB) was seized
by the Federal Deposit Insurance Corporation (FDIC). We understand that an event such as this could raise concerns about the safety of your money and the security of your financial institutions, including 1st United Credit Union. This is understandable and I wanted to take a moment to reach out with reassurances and to provide some insight into the events.
Silicon Valley Bank Was a Niche Bank
What occurred at Silicon Valley Bank was a unique situation. SVB was a niche bank serving a particular set of customers within the technology industry, including innovative tech start-ups, entrepreneurs, and venture capital firms. The Bank was focused on a limited sector, which significantly increased its risk profile. When the businesses it served began to struggle and draw down cash, SVB was not able to sell their investments to meet this demand. Therefore, the FDIC stepped in to help protect its depositors.
Unlike SVB, 1st United is a not-for-profit financial cooperative, owned by our members to serve their interests. We are not subject to big-profit pressures from investors or stockowners (unlike many banks), and instead focus on traditional products for our local community.
1st United is Well Capitalized, Safe, and Secure
1st United Credit Union remains one of the largest and strongest credit unions in the nation. We maintain a capital ratio of over 10%, well above the 7% threshold recommended by the National Credit Union Administration. Additionally, we maintain equity reserves and liquid investments that prioritize needed safety and soundness for our members.
I can assure you that 1st United is well positioned to remain operational during turbulent times. We continue to adjust our business practices to align with market conditions while keeping your best interests our priority.
Your Money is Insured at 1st United
At 1st United Credit Union, your deposits are federally-insured by the
National Credit Union Administration (NCUA),
a separate fund not associated with the FDIC for banks.
The NCUA is an agency of the U.S. Government and the strongest of the federal deposit insurance funds. In fact,
not one penny of NCUA-insured money has ever been lost by a member.
Not one penny of NCUA-insured money has ever been lost by a member.
Thank You for Your Membership and Trust
We are grateful that you've chosen to bank with us. And we want to assure you that we continue to keep the protection of your accounts our highest priority.
If you have questions about NCUA insurance or the Credit Union, please
contact us.
We are here to support you.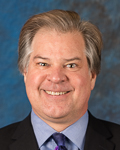 Steve Stone
President & CEO
Subscribe to Our Blog
* Required
Thank you.
We appreciate your interest.