Vacations are designed to give us a chance to get away, try something new, and recharge our batteries. If getting away isn't an option, then you can plan a staycation that's almost as good as getting out of town.
Many fun activities can be part of your staycation, and they don't have to break your budget. Start by shaking up your daily routine. Cancel your meetings and business calls. Shut down your email. Ditch the housework. Start thinking of things you may not have tried before.
Need some ideas? Whether you're looking for new activities for your whole family or just yourself, we put together a list of some fun, budget-friendly ideas to try. How you spend your staycation is limited only by your imagination.
Fun ideas for the kids
Play tourist in your hometown

If you want to get out of the house, explore your hometown like a tourist. There are great sites to see everywhere in the Bay Area, whether in
Alameda
,
Berkeley
,
Napa Valley
,
Oakland
,
San Francisco
, or
Santa Cruz
. Grab takeout and go on a picnic or search online for top outdoor attractions or historic landmarks in your city. There may be some you forgot about!
Explore local parks
Bring the adventures home
Set up a tent, hang some twinkle lights, bust out the sleeping bags, and camp in the backyard. Schedule a family croquet or cornhole tournament. Turn your living room into a fort city. Or why not set up a movie theater in the backyard? You also can try a DIY project and build something together as a family for the house or backyard.
Take a virtual vacation
You can visit a destination almost anywhere in the world, online.
Major tourist attractions
such as the Louvre, the Eiffel Tower, the Coliseum, and the Great Pyramids all have online tours. Or, you can take a virtual tour of
your favorite European cities
. If you want something more educational, there are also
virtual tours of museums
from around the world. Make the trip complete by planning a special meal that matches your destination, which you can cook together as a family.
If amusement parks are more your thing, take a
virtual amusement park ride
. There are online rides available from Disney World, Disneyland, and Universal Studios, including roller coasters and classic amusement park rides. The folks at Disney have even created a new online destination called
Disney Magic Moments
that offers the Disney experience at home.
Adults can have staycation fun too
Staycation activities aren't just for kids. Adults need time off as well. There are lots of ways to relax and recharge without leaving home.
Schedule it
The first step is to schedule your staycation. This requires setting aside time to unplug and relax without worrying about work or chores around the house.
Allocate some guilt-free time
to relax and read a book, pursue a hobby, or just take a nap.
Dine-in
Need a break but don't want to go anywhere? You can order takeout from your favorite restaurant and have a romantic dining experience at home. If you want to get together with friends, schedule a
virtual happy hour
. You can choose a theme, decide what kind of cocktails you want to make, and then set up a virtual gathering. You can even go wild with a costume party, virtual party games, or a
virtual movie night
with
Netflix Teleparty
.
Get creative
If you want a more romantic experience, schedule a staycation for two! If you love the outdoors, take a walk in the woods or find some local spots to go camping. You can also plan a special dinner night and take an online cooking class together.
The great thing about a staycation is it doesn't have to cost much and you can be innovative and adventurous without leaving home. Plus, you can take the money you save by taking a staycation and set it aside for a more extravagant vacation. If you put that much aside in a
savings account
or certificate of deposit, you will have that much more money (plus interest) saved for next year's vacation.
Whether you decide to stay home or venture out, please stay safe. And as always, reach out with any questions about money management. We are here to help.
Subscribe to Our Blog
* Required
Thank you.
We appreciate your interest.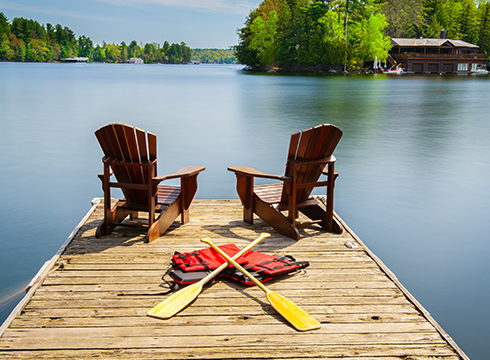 Your loan – personalized!
Whether you're planning your next vacation, staycation, home remodel, or simply want to consolidate debt, we have the financing for you.