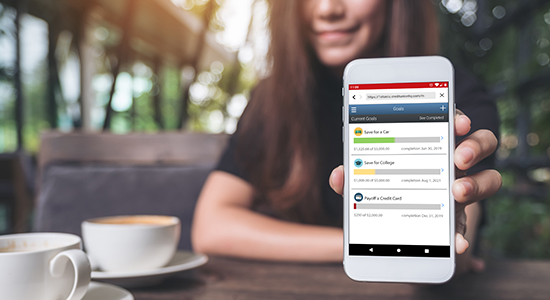 Kick Start Your Money Resolutions with Money Manager
It's a new year! There is always something exciting about a fresh start and now is the perfect time to kick-start your savings or debt payoff plan. But you don't have to tackle it on your own. With a few strategies and our online
Money Manager
, you can set goals, track spending and stay informed along the way. Here are our top four tips to accomplish your goals.
Set a target

Instead of resolving to "save money this year," quantify it with a concrete objective and record it in Money Manager as a goal. For example, "save $200 a month in 2019." Setting a specific target that includes a timeframe will establish an expectation for you to hold yourself accountable. Plus, you'll know for sure if you achieved it.
To create your goal, log in to online or mobile banking and select Money Manager, then Goals from the main menu.
Hold yourself accountable
Setting a goal often isn't enough. Money Manager helps to hold yourself accountable by tracking progress for you that you can monitor daily. You can even create text or email alerts that let you know how you're doing. Daily reminders will help you stay on track.



Automate
Take the set it-and-forget it approach to money management when you can. Using direct deposit or automated transfers, you can move money to a savings account dedicated to that vacation fund, holiday stash, and a child's account – whatever you'd like. You may be more successful when your extra money is out of sight.



Be realistic
Ultimately, resolutions fail because people give up. If you fall short of your intended target one month, that's okay. Keep your motivation to try again next month or reevaluate and adjust your goal to make it attainable. Continue to strive for your goal throughout the year. Routines become habit.

Sticking to a New Year's resolution isn't always easy – but it can be rewarding!
Subscribe to Our Blog
* Required
Thank you.
We appreciate your interest.