If you like the guaranteed earnings of certificates, but wish you could earn more, you're not alone.  Many consumers want to grow their money in a more substantial way; however, they don't want to risk their principal.
A market-linked CD is a type of certificate of deposit that is linked to a market index, such as the S&P 500.  It combines the long-term growth potential of the market with the security of a traditional certificate.  Market-linked CD terms are typically slightly longer than traditional CDs and it's important to allow these CDs to fully mature so that your principal isn't at risk.
Market-linked CDs can be a good investment alternative because:
Your principal is guaranteed when held to maturity

Your potential rate of return is higher

Your investment is FDIC insured, up to applicable limits

If you think market-linked CDs may be a fit for you and would like to learn more, please call Rahil Machiwalla.  He's available to chat by phone or can meet you at 1st United branch location.
Market-Linked CDs are not appropriate for all depositors including clients seeking a guaranteed interest payment or full participation in the stock market. If redeemed prior to maturity, the amount received will be subject to market risk including interest rate fluctuations and issuer credit quality. Market-Linked CDs are guaranteed by the issuing bank when held to maturity and are FDIC insured up to $250,000 per issuer, per depositor, per account ownership category.
This information brought to you by: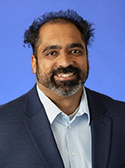 Rahil Machiwalla, Osaic Institutions, Inc.*
Financial Advisor
(925) 598-4718
CA Insurance Number: 0G20361
Get Started with a Complimentary Consultation
---
*Investment and insurance products and services are offered through Osaic Institutions, Inc., Member FINRA/SIPC. Osaic Institutions does insurance business in California as Osaic Institutions Insurance Agency. CA Agency License #OH30186. Osaic Institutions and 1st United Credit Union are not affiliated. Products and services made available through Osaic Institutions are not insured by the NCUA or any other agency of the United States and are not deposits or obligations of nor guaranteed or insured by any credit union or credit union affiliate. These products are subject to investment risk, including the possible loss of value.
Subscribe to Our Blog
* Required
Thank you.
We appreciate your interest.