If you've seen ads about leasing a car, you know that the monthly payment on a lease could be a lot less expensive than the monthly payment when you buy a car. Once you read the fine print, though, you might find that leasing isn't the bargain you hoped for.
Auto Lease Basics

Leasing a car is similar to renting a car – you pay to use the vehicle and return it after a set period of time. Leasing differs in that you also pay fees to register the car, buy auto insurance as if you owned it, and are responsible for repairs and scheduled maintenance.
Other leasing basics include:
Length of lease: A typical lease lasts 24-48 months. Longer leases are generally less expensive, but you have more out-of-pocket costs for upkeep.
Fees due at signing: Besides registration, administrative fees, and your first month's payment, you'll need to make a down payment. Usually, the more you pay up front, the lower your monthly payments will be.
Mileage costs: You're allowed to drive a certain number of miles during your lease. If you go over, you will be charged a fee (around 10-50 cents per mile). You can usually avoid this penalty if you buy the car, extend the lease, or lease another vehicle by the same dealer.
Purchase option: After the lease ends, you have the option to buy the car at a price that was established when you signed the lease. Sometimes, that price isn't the best deal. Dealers might be willing to negotiate that price down because it can be more expensive and a hassle for them to take the car back.
Disposition fee: Some dealers charge to put a returned car back into its inventory.

Returning the car: Generally, the dealer will contact you to set up a date to hand over the car and inspect it. In the end, you'll get your security deposit back minus charges for excess wear-and-tear, excess mileage, and a disposition fee (and you could end up owing money when all that is added up).

Why Leasing Might Work for You
Leasing has its advantages, too. Here are some reasons why it might be a good option for you:
A smaller monthly payment

The monthly payment on a lease is likely to be less expensive than the monthly payment for an
auto loan from a credit union
, bank, or the dealer's own financing service. Instead of paying to own the car, you're only paying for the right to drive it plus extra to cover its depreciation during the lease period. This smaller payment gives you a new car while allowing you to
maintain your budget
.
No worries about depreciation

New cars lose value as soon as you drive them off the lot. Leased cars depreciate the same way, but it won't be an issue for you because you won't be selling it or using it as a future trade-in.
A new car every few years

If you like driving the latest model, leasing gives you this freedom. Leasing might also be a good option if you know your future vehicle needs will change (e.g., you anticipate having a family in a few years and will need a larger car).

Why Leasing Might Not Work for You
For some, leasing isn't always the better financial decision. Here are some reasons why leasing might not be a good fit for you:
You drive a lot

Long commutes, a love of road trips, and chauffeuring kids around can quickly add miles, putting you at risk of a penalty for going over your mileage allocation. This will eliminate any savings you were hoping to gain with a smaller monthly payment.
You expect excess wear and tear

Dealers don't expect you to return their car in perfect condition. Spills, scratches, and smudges happen. If they are beyond normal wear and tear, you could be charged when the lease ends.

You eventually want to own the car

The purchase option on your lease could cost more than buying another used car. Dealers will often negotiate, but you may be better off securing a credit union auto loan, or other form of financing, and buying the car in the first place.
Do the Math!
Need help? Our lending specialists will be happy to walk you through your car loan options. Call us at (800) 649-0193.
Subscribe to Our Blog
* Required
Thank you.
We appreciate your interest.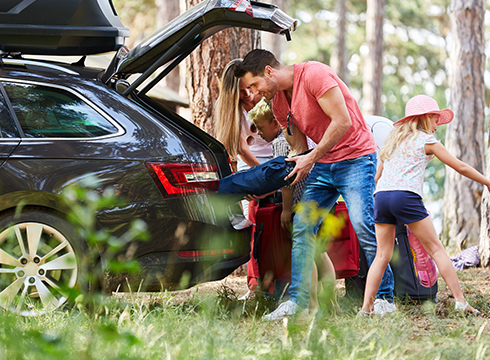 Auto loans for where life takes you.
Let us help you finance the car of your dreams with a low rate, low payment, and flexible term to fit your budget.