A home equity line of credit (HELOC) allows you to use the equity in your home to achieve other goals. Here is a quick look at how a HELOC works and how you can benefit from it:
What is a HELOC?
A HELOC is similar to a home equity loan in that you borrow from the value of your property not owed on your mortgage.
Unlike a home equity loan
, a HELOC allows you to draw funds from a line of credit. You can take out money, pay down the balance, and draw again, just like a credit card. This gives you the flexibility to borrow money whenever you need it.
How much can you borrow?
The amount you can borrow with a HELOC varies by mortgage lender. Our HELOC allows you to borrow up to 80% of your loan to value. For example, if your home is worth $500,000 and you owe $200,000, your HELOC can be up to $200,000. Use our
HELOC
calculator
to determine your maximum HELOC amount.
How do you draw funds?
Using the funds from a HELOC is very easy and might vary by lender. For our HELOC, you simply log in to your account and initiate a transfer of money from your HELOC to your checking or savings account, or an account at another financial institution. We also provide checks that draw directly from the line of credit and can be used anywhere checks are accepted.
Should I be concerned about the variable interest rate?
We offer a variable-rate HELOC, meaning the rate can change over time as the
federal prime interest rate
changes. Although that sounds risky, the rate increase is capped at 6% over the lifetime of the loan. For perspective,
the prime rate hasn't been above 10%
since the 1980s. Although nothing is guaranteed, the annual cap on your HELOC should prevent your APR from spiking as you carry the loan.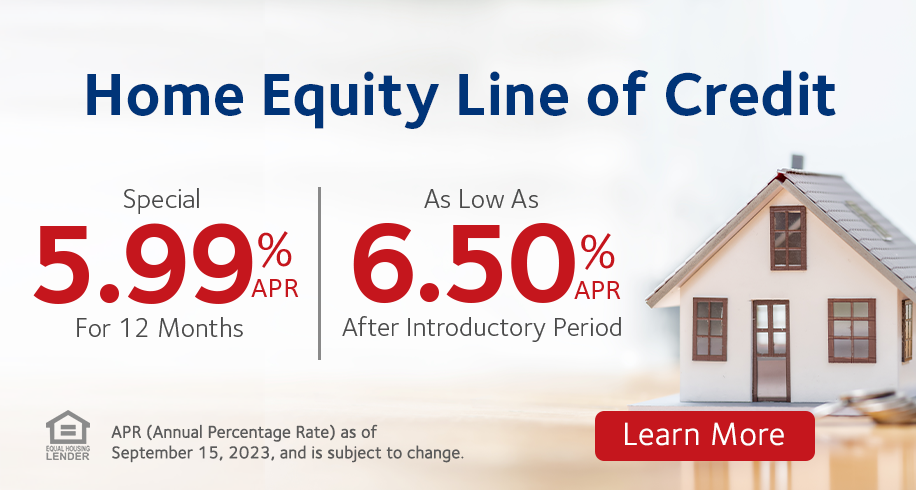 How do I repay the loan?
Our HELOC is a 30-year loan. You will be able to borrow money any time during the 15-year draw period. Interest will accrue on any money you take out, and you will be charged a monthly payment of 1% of the outstanding balance or $75, whichever is more. After the draw period, you will continue making a monthly payment based on the interest rate, the outstanding balance, and the remaining loan term of 15 years.
What else should I know?
There are a few other basics to know as you consider whether a HELOC is right for you:

If you are using funds to renovate your property, HELOC interest could be tax-deductible. Consult a tax professional to learn if your home improvement project is eligible.

Because your home is used as collateral, failure to repay the line of credit can lead to foreclosure.

We will provide you with an itemization of any fees during the application process.
What can I use a HELOC for?
The equity in your home is a valuable resource. A HELOC allows you to tap this resource for whatever you need. Some typical uses include:
Home renovations and additions

Landscaping, hot tubs, and pools

Tuition payments

Medical expenses

Travel expenses

Moving expenses

Large purchases (e.g., appliances, emergency home repairs)

Emergency fund
A HELOC shouldn't be used for everyday expenses or impulse buys. The funds you use today will need to be repaid, and you don't want to find yourself paying both a mortgage payment and a large HELOC payment. Carefully use your equity as part of your financial plan and not as a license to spend.
Moreover, HELOCs aren't the only choice for homeowners with good credit. A home equity loan or a
personal loan
may also serve your unique financial needs. Consider those options as you plan for your future.
Our real estate specialists are standing by.
Before you decide between a mortgage refinance and a home equity loan or line of credit, call us. Our real estate experts will help you determine the best option for you.

Subscribe to Our Blog
* Required
Thank you.
We appreciate your interest.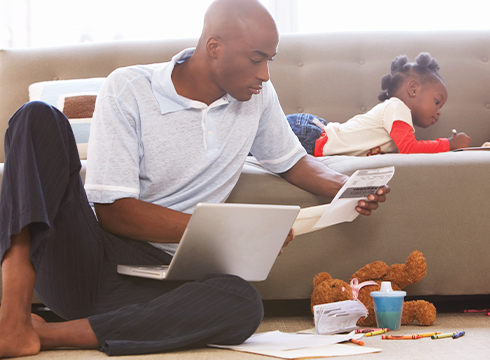 Professional and Quality Protection
We've teamed up with TruStage to offer premium insurance services, exclusively for our members.