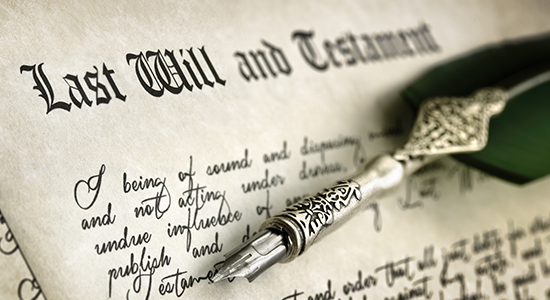 Four Questions to Ask About Your Inheritance
Receiving an inheritance could be an overwhelming experience for some. Not only are you coping with the loss of a loved one, you may be coming into a sum of money that could change your financial situation. After giving yourself some time to breath and process this experience, you can begin putting together a plan on how to spend or invest this money. 
Often, though, people miss important details about their inheritance or end up spending it too quickly. If you've received an inheritance or expect to, here are a few things you'll want to consider before you begin spending.
1. Are there taxes?
Knowing if the money is from a life insurance policy, sale of a property, liquidated investments or cash will help to determine if you need to pay taxes and to what degree. You'll want to take care of this tax bill, if any, right away.
2. Are there outstanding expenses?
You'll also need to find out if there is outstanding debt for the deceased that needs to be paid from this sum of money. This could be credit card or loan balances, burial expenses, or a mortgage.
3. Is there fine print?
You'll want to know if you are receiving a lump sum or installment payments. You'll also want to find out if there are any stipulations to receiving the money such as reaching a certain age or accomplishing a specific task.
4. Do you need help?
A financial advisor can help you put together a plan for how to strategically invest your inheritance. When you meet with an advisor, have an idea of how you want to use the money and any timelines involved so they can best guide you.

As the
financial advisor
through CUSO Financial Services, L.P.* (CFS) at 1st United Credit Union, Rahil Machiwalla can help you develop a strategy for spending or investing your inheritance that meets your needs. He's available to talk by phone or meet you at any 1st United branch.
Schedule your appointment today
.
This information brought to you by:

Rahil Machiwalla, CUSO Financial Services, L.P.*
Financial Advisor
(925) 598-4718
Get Started with a Complimentary Consultation
---
*Non-deposit investment products and services are offered through CUSO Financial Services, L.P. ("CFS"), a registered broker-dealer (Member FINRA/SIPC) and SEC Registered Investment Advisor. Products offered through CFS: are not NCUA/NCUSIF or otherwise federally insured, are not guarantees or obligations of the Credit Union, and may involve investment risk including possible loss of principal. Investment Representatives are registered through CFS. The Credit Union has contracted with CFS to make non-deposit investment products and services available to Credit Union members. Please consult a qualified tax advisor for specific tax advice. View CFS Referral Disclosure
Subscribe to Our Blog
* Required
Thank you.
We appreciate your interest.