An account beneficiary is the person or persons designated to receive the assets or funds from your financial accounts when you pass away. Beneficiaries are typically designated for your credit union membership, checking accounts, savings accounts, investments, IRAs, life insurance policies and more. Maintaining current designations is an important step to protecting your assets; yet, many people forget to check this information. Incorrect or outdated beneficiary information could cause problems for your family down the line. Here's more about beneficiaries and why you should monitor this information.
The importance of current designations
If beneficiaries are incorrectly stated (or not declared at all), funds from your accounts could go to the wrong person, end up part of your estate, or be subject to a costly probate. Without a beneficiary on your credit union membership, we won't know who to reach out to if you pass away and funds could end up being distributed as unclaimed funds to the State; your family would have to go through a time-consuming process to claim them. It's good practice to keep a list of your accounts, where they are, and who the beneficiaries are and to check it annually and after a life event such as a change in marital status, children, or retirement.
A will won't matter
A common misunderstanding is that a will declares who gets what. However, a beneficiary designation will override a will because it's a contract with the financial institution that states funds are to be paid out to the specified person in the event of death. This happens before funds are released to an estate to be distributed by a will. If you've divorced then remarried and updated your will but not your beneficiary designation, your ex-spouse may end up with your life insurance, for example.
Check & update all your accounts
You likely have beneficiaries designated for accounts you may not have thought of. Be sure to check the following:
Credit Union Membership - Call us or stop by the branch to know who you designated for your 1st United membership. Changes can be made in-branch or we can mail a form to you.
Other Checking, Savings, and IRA Accounts – Check with your other financial institutions to find out who you designated and how you can make changes.
Stocks and Other Investments – Most investment accounts allow you to view your beneficiaries through an online account. Contact your financial advisor or investment provider for details.
Employer-Sponsored Benefits – At open enrollment each year, you have an opportunity to opt in to your company benefits such as 401(k), pension, health care, life insurance, and accidental death and dismemberment insurance. During enrollment is the perfect time to check and update your beneficiary designations. Check with your employer for details.
Independently-Purchased Benefits – Do you have a list of other benefits you purchased such as extra life insurance or a 529 savings plan? Add those to your list so you can check them every year during your review.
Planning for the financial security of your family or heirs is essential and ensuring your beneficiary designations are correct is just one more way you can protect them long after you are gone. Take time now to update your beneficiaries. If you have any questions about your 1st United accounts, please
reach out
– we are happy to answer your questions.
Subscribe to Our Blog
* Required
Thank you.
We appreciate your interest.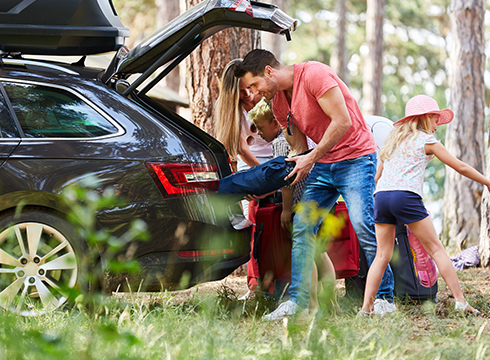 Auto loans for where life takes you.
Let us help you finance the car of your dreams with a low rate, low payment, and flexible term to fit your budget.