Who said going on vacation means you have to break your bank? A staycation is a budget-friendly way to have fun, unwind, and see new sights.
A staycation is just as it sounds – a vacation where you stay home. This doesn't mean that you stay home and that's it. With a staycation, you simply schedule time off work (just like a vacation) and set a plan to get out and about each day while sleeping at home each night. It's an excellent opportunity to be a local tourist. Here are four ways you can save with a staycation.
1. Find what's free
Be on the lookout for local fun that's free. Many museums offer free days and most towns offer free summer activities such as music in the park or outdoor movie nights. You can also check with your local visitor's bureau or do a quick Google search to find walking tours in just about any town – a cool way to see the sights and learn about a town's history without paying for a guided tour.
2. Check out city beaches & parks

For one of your vacation outings, plan a day hiking at a local park or visiting a nearby beach.
East Bay Regional Park District
offers hiking maps and activity suggestions for our local parks. They also coordinate guided hikes with naturalists if you want a little more information on the area.
3. Head out on a road trip

4. Take a day to relax

Vacations are for unwinding and refreshing before heading back to work. The same goes for a staycation. Being home, you might be tempted to watch TV or check your phone. Instead, shut off technology and read a book, have dinner on the patio, sleep in, or take a long bath – do all the things you would do if you were staying at a hotel on another continent. You'll thank yourself for taking the time to break the regular routine of being home and relaxing.
Whatever you plan to do during your staycation, be sure to take advantage of the time off work. This is a time to disconnect and take a break so you can return to work rested and ready to be productive. Plan an activity or outing every day of your staycation and post it on your refrigerator so the whole family knows what to expect and can get excited about it. And as always, be sure to budget so your staycation does not sidetrack your savings goals.
Subscribe to Our Blog
* Required
Thank you.
We appreciate your interest.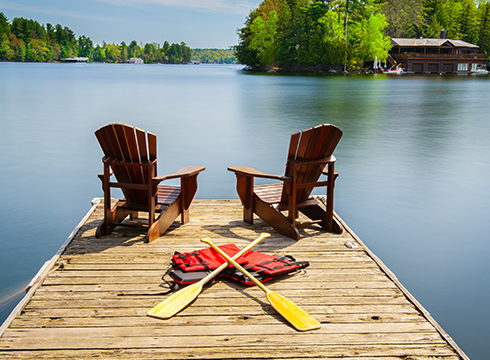 Your loan – personalized!
Whether you're planning your next vacation, staycation, home remodel, or simply want to consolidate debt, we have the financing for you.