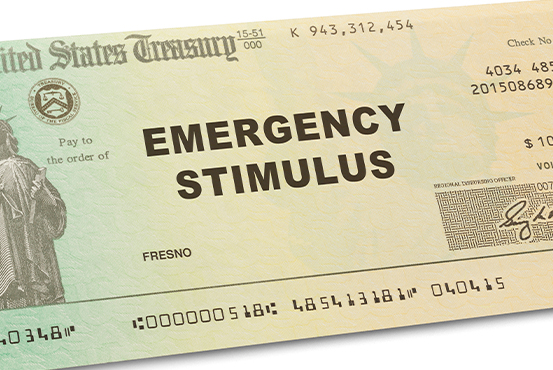 IRS Stimulus Checks – What You Need to Know
Please visit the IRS website for additional information
A second distribution of IRS
economic impact payments
(also known as stimulus checks) have begun. For many of our members, these payments will be a significant relief during an already-trying time. As your Credit Union, we want you to know as much as you can about these payouts so you can not only safeguard your financial health but also protect yourself from stimulus payment fraud that is circulating. Please take a moment to review this information so you are prepared.
Eligibility
Per the IRS, you are
eligible for payments
if you meet certain criteria based on your last tax filing. You can find complete details on your eligibility by visiting the IRS Coronavirus Tax Relief and Economic Impact Payments page here.
Where & how payments are sent
Most people do not need to take action – payments will be automatically deposited to the financial institution used for your most recent tax refund. If you did not provide bank information, a check will be mailed, unless you provide your financial institution information to the IRS prior to your payment being processed. Use the IRS
Get My Payment
tool to determine if and when you will receive your payment.
Take action if you didn't file taxes
If you didn't file taxes, you may submit your information to the IRS to get your payment. Eligible U.S. citizens or permanent residents may be eligible to submit a
Non-Filers form on the IRS website
.
Payment dates
Stimulus payments have begun distributing in early January. However, expect weeks, up to months, to receive your payment. You may check the status of your payment using the
IRS' Get My Payment tool
.
Watch for fraud
Please use caution. The IRS will not contact you about your stimulus payment.
If you are contacted by anyone to fill out a form regarding your stimulus check or anyone asks you to provide an account number for your stimulus check, it's likely fraud.

The IRS will not call you seeking your account information in order to deposit stimulus funds. Do not give out your personal banking information to any caller.

If you receive a check for more than you were expecting, followed by a phony call telling you to keep $1200 and mail the rest back, it's likely fraud. Do not cash that check.

1st United will not call or text you asking for your online banking credentials (user ID, password, card number). Do not give out your personal banking information. We will verify you in other ways. Hang up and call 1st United if you aren't sure!


Get alerted when your payment comes in
Create an alert on your 1st United checking or savings account that lets you know when your stimulus payment is deposited. Log in and choose the account you want to create an alert for, then select
Alert preferences
.

If your account is closed
If you specified a 1st United account for your last tax filing and that account is now closed, you will need to contact the IRS.
Here's more information
. If they have already sent the payment, we will reject those funds and send them back to the IRS. We are unable to reopen the account to accept the funds.
We hope this information is helpful. We remain concerned about your health and well-being and are doing what we can to help our members and our community. If you have any suggestions or input, please reach out at
email@1stunitedcu.org
.

Subscribe to Our Blog
* Required
Thank you.
We appreciate your interest.