Cake100

Rewards Checking Takes the Cake!
Earn interest and up to double Visa Platinum Rewards points
Interest and up to double credit card points... PLUS, $100


Have your cake and eat it too. Here's how:

Earn interest
when you use your 1st United debit or credit card to make at least 15 purchases a month.
View checking rates

Earn 1.5x points

on Visa Platinum Rewards card purchases when you use your debit or credit card 15 times per month.
Learn about Visa Platinum Rewards

Earn double points
when you make 30 or more purchases.
See what you could earn with your points
We're sweetening the deal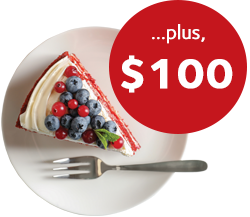 GET $100
Open a
Rewards checking account
using promo code
CAKE100,
use your debit card to make 15 purchases within sixty days of account opening and we'll give you $100.
Decadent checking details:


No monthly fee

No minimum balance requirement

Free FICO® score quarterly

Access your account from anywhere with free online and mobile banking

Free online bill pay

Free ATM access at 30,000+ ATMs nationwide
Checking account and debit card establishment are subject to approval using a third-party consumer reporting agency. Dividends are paid monthly based on average daily balance, and will only be paid if the combined total of debit and credit card purchase transactions reaches 15 or more within the month. All qualifying transactions must post to the account and the funds must be available to fund the transaction by the last business day of each month. Click here for current rates. No monthly fee, but other fees may reduce earnings. Rewards Checking only available for members 18 and older. Rewards bonus: 1st United Visa Rewards account holders will receive a 50% bonus (1.5 points per dollar spent) on their Rewards points earned within the month if they perform 15–29 combined debit and/or credit card purchase transactions or a 100% bonus (2 points per dollar spent) on their Rewards points earned within the month if they perform 30+ combined debit and/or credit card purchase transactions. Bonus will be credited in the subsequent Visa cycle. Loans are subject to credit approval. Cannot be combined with any other offer or points multiplier. All 1st United credit cards require consent to recovery of delinquent balances from Credit Union shares. Foreign transaction fees are 2.00% of each transaction in United States dollars (USD) and may be assessed on purchases or online purchases made in the United States if the merchant is in a foreign country. View our full Visa disclosure.. $100 incentive qualification: Open a new checking account using promotional code CAKE100 by September 30, 2021 and use your debit card to make a purchase 15 times within the first 60 days of account opening. Offer is subject to change or withdrawal at any time and is not available to existing or additional 1st United checking accounts. Incentive will be credited on the next business day after all requirements are fulfilled. FICO is a registered trademark of Fair Isaac Corporation in the United States and other countries. Insured by NCUA.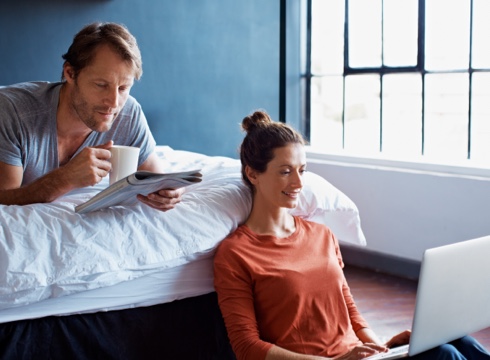 Happiness is right around the corner.
Focus on the joys of buying your new home – our experts will handle the paperwork.